Lectures on Flavor Physics and CP Violation
Keywords:
Lectures, flavor, CP violation, CKM matrix, flavor changing neutral currents, GIM mechanism.
Abstract
These lectures on flavor physics are an introduction to the subject. First lecture: We discuss the meaning of flavor and the importance of flavor physics in restricting extensions of the Standard Model (SM) of Electroweak interactions. We explain the origin of the KM matrix and how its elements are determined. We discuss FCNC and the GIM mechanism, followed by how a principle of Minimal Flavor Violation leads to SM extensions that are safe as far as FCNC are concerned even if the new physics comes in at low, TeVish scales. This is illustrated by the example of B radiative decays. Second lecture: We then turn our attention to CP-violation. We start by presenting neutral meson mixing. Then we consider various CP-asymmetries, culminating in the theoretically clean interference between mixing and decay into CP eigenstates.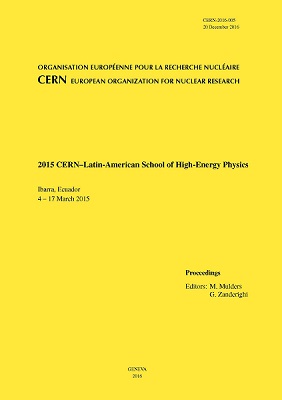 Downloads
License
Authors who publish with this publication agree to the following terms:
CERN retains copyright and publishes the work licensed under the Creative Commons Attribution License 4.0 that allows others to share the work with an acknowledgement of the work's authorship and initial publication in this series.
Authors are able to enter into separate, additional contractual arrangements for distribution of the published version of the work (e.g., post it to an institutional repository or publish it in a book), with an acknowledgement of its initial publication in this series.
Authors are permitted and encouraged to post their work online (e.g., in institutional repositories or on their website) prior to and during the submission process, as it can lead to productive exchanges, as well as earlier and greater citation of published work (See The Effect of Open Access).