Experimental Facilities at the High Energy Frontier
Keywords:
Large hadron collider, detector, trigger, particle physics, Higgs particle, physics beyond the Standard Model.
Abstract
The main theme of the lectures covered the experimental work at hadron colliders, with a clear focus on the Large Hadron Collider (LHC) and on the roadmap that led finally to the discovery of the Higgs boson. The lectures were not a systematic course on machine and detector technologies, but rather tried to give a physics-motivated overview of many experimental aspects that were all relevant for making the discovery. The actual lectures covered a much broader scope than what is documented here in this write- up. The successful concepts for the experiments at the LHC have benefitted from the experience gained with previous generations of detectors at lower- energy machines. The lectures included also an outlook to the future experimental programme at the LHC, with its machine and experiments upgrades, as well as a short discussion of possible facilities at the high energy frontier beyond LHC.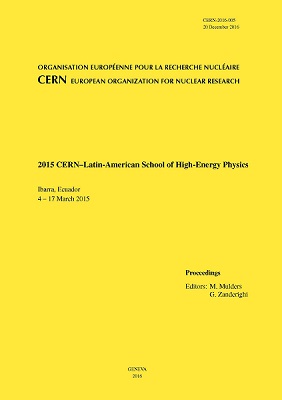 Downloads
License
Authors who publish with this publication agree to the following terms:
CERN retains copyright and publishes the work licensed under the Creative Commons Attribution License 4.0 that allows others to share the work with an acknowledgement of the work's authorship and initial publication in this series.
Authors are able to enter into separate, additional contractual arrangements for distribution of the published version of the work (e.g., post it to an institutional repository or publish it in a book), with an acknowledgement of its initial publication in this series.
Authors are permitted and encouraged to post their work online (e.g., in institutional repositories or on their website) prior to and during the submission process, as it can lead to productive exchanges, as well as earlier and greater citation of published work (See The Effect of Open Access).