The push and pull between innovation and feasibility: reflections on an ideation process during a CERN IdeaSquare Summer School
Keywords:
Creativity, divergent and convergent thinking, suspension of constraints, CERN Summer School
Abstract
We wrote this paper as part of a summer school project in collaboration with CERN IdeaSquare, TU Delft,and the Rotterdam School of Management. Using the example of the PEBBLES technology, our work elaborates on the exploration and integration of technological boundaries to the creative thinking process. Diving into the foundations of different views on creativity allows us to better understand the ideation processes and outcomes that occurred throughout the project. Feasibility boundaries appeared as a key element in the ideation and idea selection process, suggesting the prime importance of realistic thinking in the case of technological innovation. Expert discussion and validation played a significant role in the navigating of technological uncertainty, helping mostly within the idea validation stage. We did not overlook the importance of technological boundaries in the creation process. We postulate in this paper that the role of attention to those boundaries varies depending on the process stage. Our paper encourages innovators to formulate ideas prior to exploring the boundaries of the technology in order not to impede the richness of the creative thinking process. We stress that expert talks happen to play a great role in the validation of ideas and should occur in the end stages of ideation.
References
Boden, M., 1990, The Creative Mind: Myths and Mechanisms, Basic Books, New York, USA.
Bono, E., 1967, Lateral thinking: Creativity Step by Step, Penguin Books Ltd., London, UK.
Gaut, B., 2010, The Philosophy of Creativity, Blackwell Publishing Ltd.
Hagen, F., S.D., Pathogen enrichment from blood by biosensor linked peptides (PEBBLES) – a case study with challenging to diagnose Candida albicans yeast infections, ATTRACT, https://phase1.attracteu.com/showroom/project/pathogen-enrichment-fromblood-by-biosensor- linked-peptides-pebbles/
Kelley, T., 2005, The ten faces of innovation: IDEO's strategies for beating the devil's advocate & driving
Lee, J., Ostwald, M., Gu, N., 2020, Design Thinking: Creativity, Collaboration and Culture, Springer Nature Switzerland AG., Cham, Switzerland.
Ryan, J.F., 1977, Creative Thinking: A Training Approach, Journal of European Industrial Training, Vol.1 No. 3, Emerald Publishing Limited: Bingley, UK., pp 25-28.
Wallas, G., 2014, The Art of Thought, Solis Press, Tunbridge Wells, UK.
Young, G., 2016, Philosophy of Art - Formal Principles in Art, Encyclopedia Britannica, Chicago, IL, USA.
N. N.,Feb 13, 2021, The catalan vineyard, again without coverage by the mildew, CE Noticias Financieras, English ed., Miami, USA.
Popova, M. 2021. "The Art of Thought: A Pioneering 1926 Model of the Four Stages of Creativity", Brain Pickings.
Toomey, D. (2016), "Exploring How and Why Trees 'Talk' to Each Other", Yale E360, https://e360.yale.edu/features/exploring_how_and_why_tr ees_talk_to_each_other.
Market Analysis Report (2020), Wine Market Size, Share & Trends Analysis Report By Product (Table Wine, Dessert Wine, Sparkling Wine), By Distribution Channel (Ontrade, Off-trade), By Region, And Segment Forecasts, 2021 - 2028, Report ID: GVR-4-68039-353-5, Grand View Research, San Francisco, USA.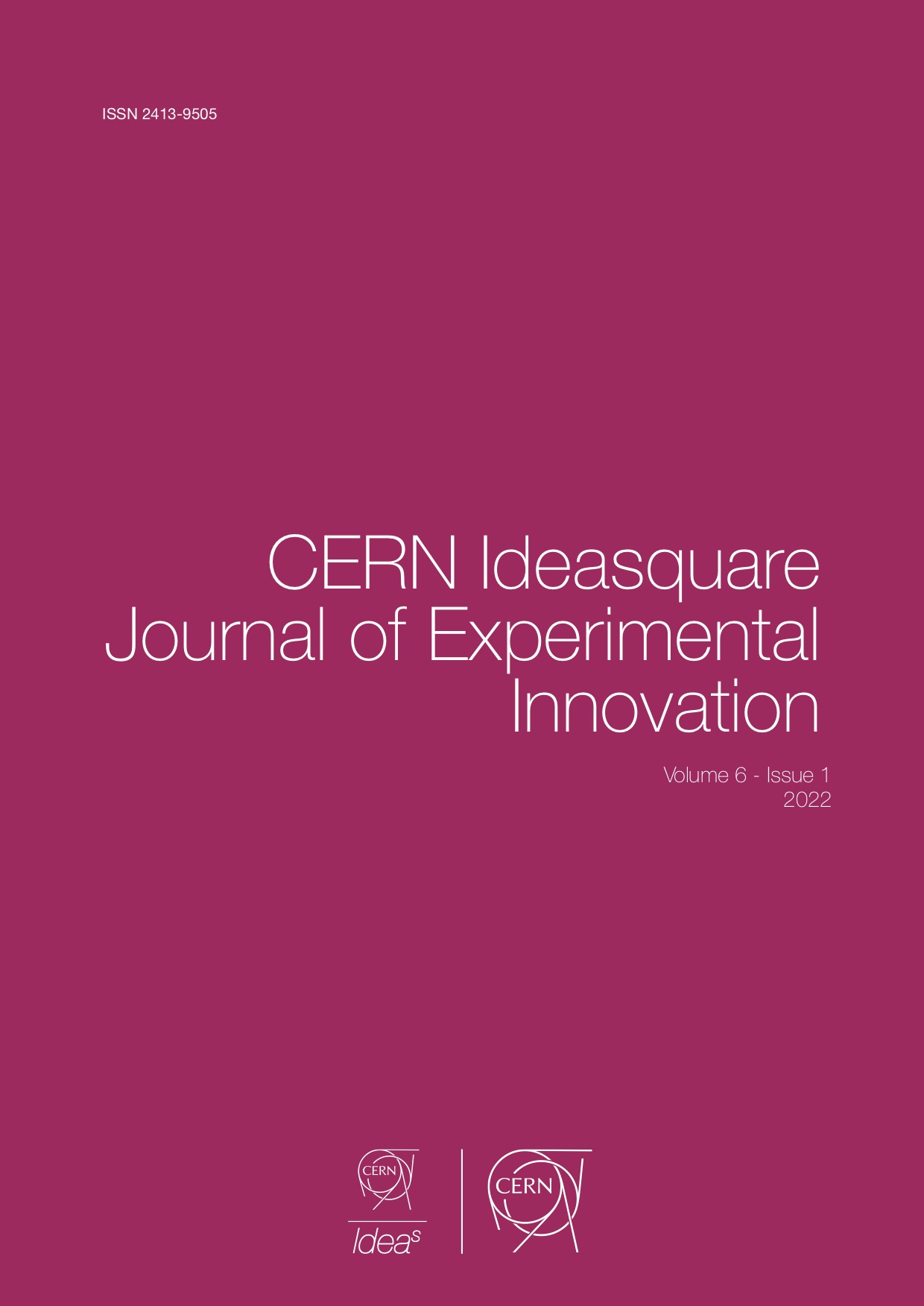 Downloads
How to Cite
Buurmeijer, H., Deshmukh, P., Fuller, A., & Verlinde, L. (2022). The push and pull between innovation and feasibility: reflections on an ideation process during a CERN IdeaSquare Summer School. CERN IdeaSquare Journal of Experimental Innovation, 6(1), 15–19. https://doi.org/10.23726/cij.2022.1334
Section
Original Articles
License
Copyright (c) 2022 Hugo Buurmeijer, Lander Verlinde, Alice Fuller, Piyush Deshmukh
This work is licensed under a Creative Commons Attribution 4.0 International License.
Authors who publish with this journal agree to the following terms:
Authors retain copyright and grant the journal right of first publication with the work simultaneously licensed under a Creative Commons Attribution License that allows others to share the work with an acknowledgement of the work's authorship and initial publication in this journal.
Authors are able to enter into separate, additional contractual arrangements for the non-exclusive distribution of the journal's published version of the work (e.g., post it to an institutional repository or publish it in a book), with an acknowledgement of its initial publication in this journal.
Authors are permitted and encouraged to post their work online (e.g., in institutional repositories or on their website) prior to and during the submission process, as it can lead to productive exchanges, as well as earlier and greater citation of published work (See The Effect of Open Access).