Caramba!! Pancho Villa and the Mexican Innovation Hat
Keywords:
CERN IdeaSquare, creativity, innovation process
Abstract
At IdeaSquare and CERN, we are constantly on the look-out for sources of inspiration to make our science better and to make orders-of-magnitude jumps in the process, as well. This time around, we take a closer look at Pancho Villa and his Mexican Hat and see how that could explain the relationship between creativity vs. structure in the innovation process.
References
Boisot, M. 1995. Information Space: A framework for learning in organizations, institutions and culture. Routledge: London.
Boisot, M., 1999. The I-Space: a framework for analysing the evolution of social computing". Technovation. 19 (9): 525–536. https://doi.org/10.1016/s0166-4972(99)00049-8
Boisot, M., Nordberg, M., Yami, S., Nicquevert, B. 2011. Collisions and Collaborations. OUP : Oxford.
Buijs. 2003. "Modelling Product Innovation Processes, from Linear Logic to Circular Chaos". Creativity and Innovation Management. 12 (2): 76-93. https://doi.org/10.1111/1467-8691.00271
Chirumalla, K.2017. "Clarifying the feedback loop concept for innovation capability: A literature review". XXVIII ISPIM Innovation Conference – Composing the Innovation Symphony, Austria, Vienna on 18-21 June 2017: 1-19.
Darbellay, F., Moody Z., Lubart, T. Creativity, Design Thinking and Interdisciplinarity. Springer: Singapore. https://doi.org/10.1007/978-981-10-7524-7
Epstein, S., Pacini, R., Denes-Raj, V., Heier, H. 1996. "Individual differences in intuitive–experiential and analytical–rational thinking styles". Journal of Personality and Social Psychology, 71 (2): 390-405.
Garcia Tello, P. 2021. Introduction to the P-Space. Mimeo, in preparation.
Geen, R. G. 1995. Human motivation: A social psychological approach. Thomson Brooks/Cole Publishing Co.
Kimbell, L. 2012. Rethinking Design Thinking: Part II, Design and Culture, 4:2, 129-148. https://doi.org/10.2752/175470812X13281948975413
Hassi, L. et al., 2016, Mixing Design, Management and Engineering Students in Challenge-Based Projects". In: 12th International CDIO Conference Proceedings, ed. Bjorkqvist et al., Turku University, ISSN 2002-1593:630-645.
Kurikka, J., Utriainen, T, 2014, Container Challenge – Prototyping Distributed Collaboration, International Conference on Engineering and Product Design Education. September 4-5, 2014. Twente, NL: 1-6.
Kurikka, J., Utriainen, T. M., & Repokari, L, 2016, Challenge based innovation: translating fundamental research into societal applications, International Journal of Learning and Change, 8(3-4), 278-297.
Leifer, L. J., & Steinert, M., 2011, Dancing with ambiguity: Causality behavior, design thinking, and triple-loop-learning. Information Knowledge Systems Management ;10 (1-4):151-173.
Liedka, J., 2015, Perspective: Linking Design Thinking with Innovation Outcomes through Cognitive Bias Reduction, Journal of Product Innovation Management. 32 (6):925–938. https://doi.org/10.1111/jpim.12163
McCarthy, M., 2010, Experiential Learning Theory: From Theory To Practice, Journal of Business & Economics Research (JBER), 8(5). https://doi.org/10.19030/jber.v8i5.725
Rosenblueth, A., Wiener, N., Bigelow, J., 1943, Behavior, Purpose and Teleology, Philosophy of Science. 10 (1): 18-24. https://doi.org/10.1086/286788
Saggar, M. et al., 2017, Changes in Brain Activation Associated with Spontaneous Improvization and Figural Creativity After Design-Thinking-Based Training: A Longitudinal fMRI Study, Cerebral Cortex 27 (7): 3542–3552. https://doi.org/10.1093/cercor/bhw171
Savory, C., 2006, Translating knowledge to build technological competence, Management Decision. 44 (8): 1052–1075. https://doi.org/10.1108/00251740610690612
Sheffi, Y., 2004, RFID and the Innovation Cycle, The International Journal of Logistics Management. 15 (1): 1-10. https://doi.org/10.1108/09574090410700194
Stickdorn, M., Hormess M.E., Lawrence A., Schneider J., 2018, This is Service Design. O'Reilly: Sebastopol, CA.
Utriainen, T., 2017, Perceived difficulty of design thinking activities in co-located and remote environments. CERN IdeaSquare Journal of Experimental Innovation, 1 (1), 21. https://doi.org/10.23726/cij.2017.460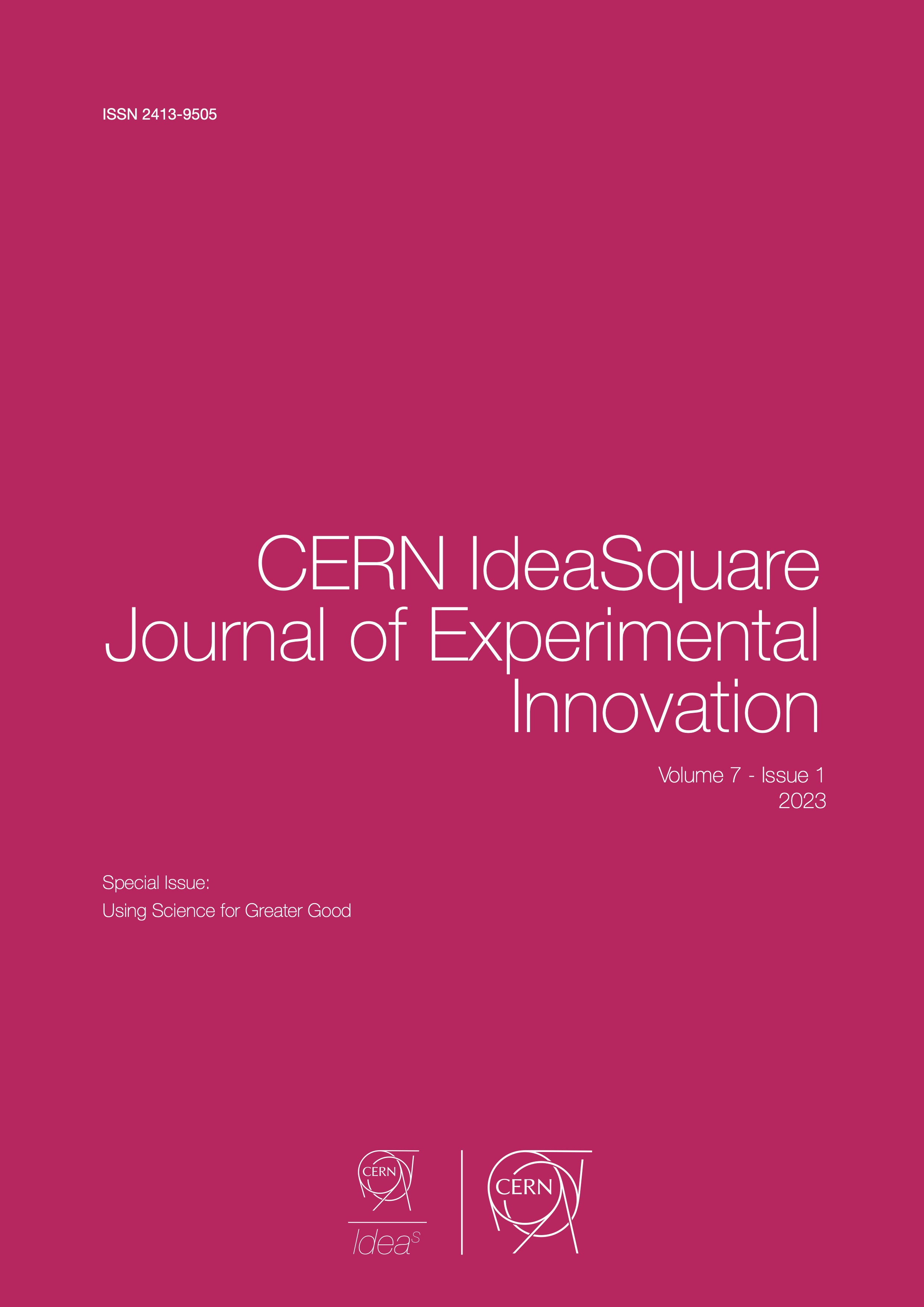 Downloads
How to Cite
VV, A. (2023). Caramba!! Pancho Villa and the Mexican Innovation Hat. CERN IdeaSquare Journal of Experimental Innovation, 7(1), 36–42. https://doi.org/10.23726/cij.2023.1443
Section
IdeaSquare Coffee papers
License
Copyright (c) 2023 AA VV
This work is licensed under a Creative Commons Attribution 4.0 International License.
Authors who publish with this journal agree to the following terms:
Authors retain copyright and grant the journal right of first publication with the work simultaneously licensed under a Creative Commons Attribution License that allows others to share the work with an acknowledgement of the work's authorship and initial publication in this journal.
Authors are able to enter into separate, additional contractual arrangements for the non-exclusive distribution of the journal's published version of the work (e.g., post it to an institutional repository or publish it in a book), with an acknowledgement of its initial publication in this journal.
Authors are permitted and encouraged to post their work online (e.g., in institutional repositories or on their website) prior to and during the submission process, as it can lead to productive exchanges, as well as earlier and greater citation of published work (See The Effect of Open Access).