An evidence-based Approach to Tasks in Science Education
Meta Analytical and other Quantitative results
Abstract
Background: Tasks and "Task culture" play a large role in science education and related areas (STEM: science, tech-nology, engineering, mathematics). Establishing a reasoned overview of empirical (mainly meta-analytical) evidence relevant for the field provides useful background for research and practice.
Purpose: The main purpose of the present work is to present and discuss meta analytical and other quantitative results concerning various settings (e.g., classroom questions, homework), forms (worked examples, concept maps, experi-mental tasks) and "philosophies" (e.g., problem-based learning), as well as learner and classroom characteristics related to tasks in STEM education. Classroom practice plays a large role in the discussion.
Sample/setting: Meta-analyses and other studies covering several decades, (science) subjects, and geographical loca-tions are reviewed. Age groups range from primary to tertiary education, with the main body in lower and upper secondary education. Where influences of age, gender, or academic level have been found, they are reported and dis-cussed.
Design and Methods: Meta-analytical results are discussed in terms of Cohen d (and of g, a small-sample correction) as a measure of effect sizes. Interpretative background of the latter is provided.
Results: Effect sizes for more than 20 independent and moderating variables related to tasks are reported and dis-cussed. Notably, the role of feedback appears crucial in several cases, especially for homework. Some results may appear unexpectedly high (e.g., self questioning, d = 0.64) or low (e.g., inquiry based learning, d = 0.31), deserving more attention in practice and teacher education in the field.
Conclusions: Tasks have earned their place in science classrooms, but they must be used judiciously. The evidence based perspective on tasks reveals a rich variety of forms, purposes, and outcomes, confirming a subject specific "task culture" as a key element of science education, helpful and stimulating for researchers and practitioners. It shows how a deliberative, research informed practice can (i) go far beyond an understanding of tasks as dull, repetitive "drill and practice", restricted to surface knowledge and (ii) counter certain illusions (e.g., regarding classroom questions) and ideologies (e.g., regarding homework) related to tasks. We see "task culture", combined with an evidence-based per-spective, as a promising framework for classroom practice, teacher education and research in the STEM field.
Keywords: exercises, problems, tasks, task culture, evidence-based science education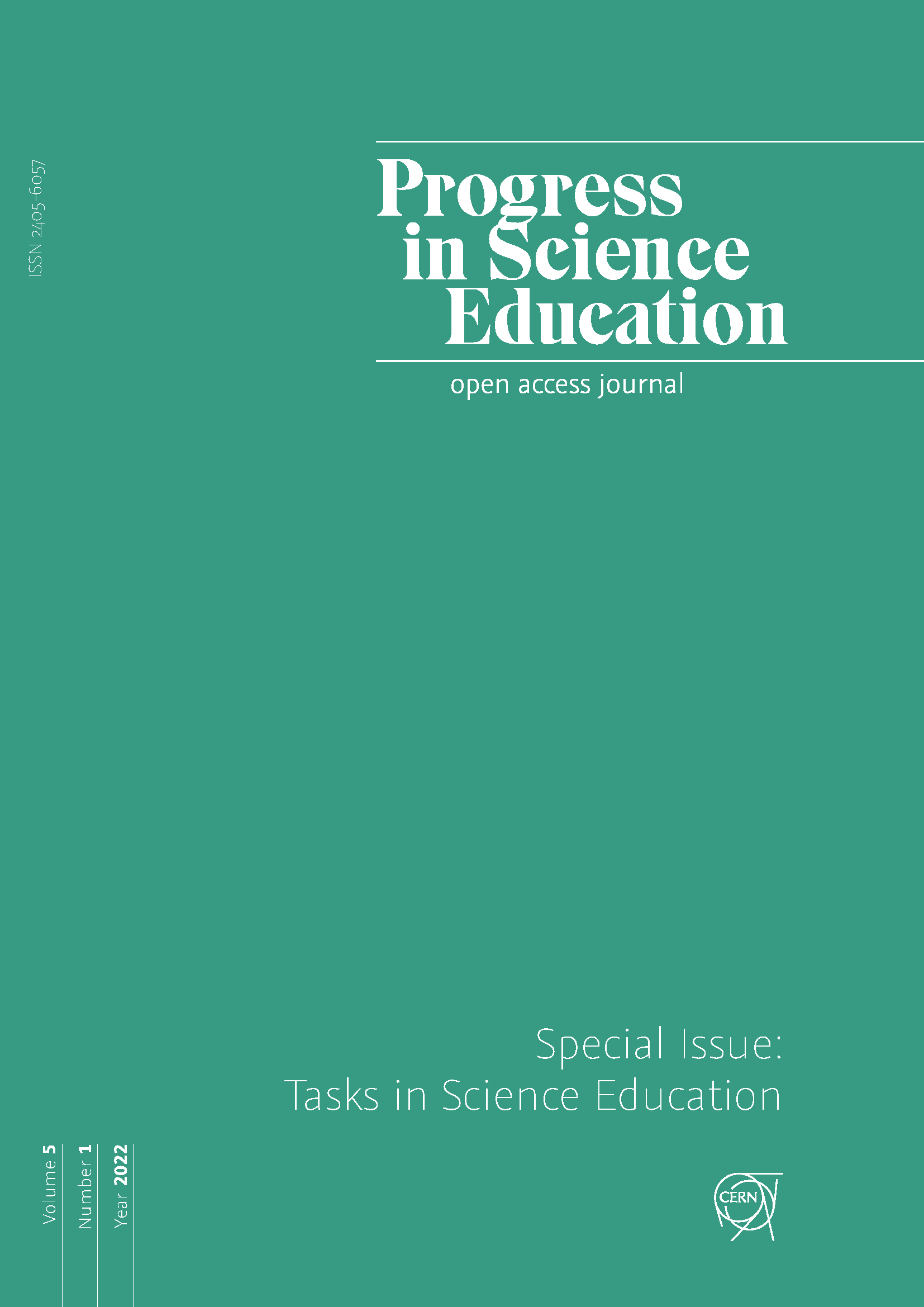 Downloads
License
Copyright (c) 2021 The Author/s
This work is licensed under a Creative Commons Attribution-NonCommercial-ShareAlike 4.0 International License.
Authors who publish with this journal agree to the following terms:
Authors retain copyright and grant the journal right of first publication with the work simultaneously licensed under a Creative Commons Attribution License that allows others to share the work with an acknowledgement of the work's authorship and initial publication in this journal. The applicable licence is https://creativecommons.org/licenses/by-nc-sa/4.0/, which means
You are free to:

Share — copy and redistribute the material in any medium or format

Adapt — remix, transform, and build upon the material under the following terms:

Attribution: You must give appropriate credit, provide a link to the license, and indicate if changes were made. You may do so in any reasonable manner, but not in any way that suggests the licensor endorses you or your use.

NonCommercial: You may not use the material for commercial purposes.

­ShareAlike: If you remix, transform, or build upon the material, you must distribute your contributions under the same license as the original.

Authors are able to enter into separate, additional contractual arrangements for the non-exclusive distribution of the journal's published version of the work (e.g., post it to an institutional repository or publish it in a book), with an acknowledgement of its initial publication in this journal.

Authors are permitted and encouraged to post their work online (e.g., in institutional repositories or on their website) prior to and during the submission process, as it can lead to productive exchanges, as well as earlier and greater citation of published work (see The Effect of Open Access).