Improving food value chain through sustainability scores
Keywords:
food, sustainability, waste, innovation
Abstract
Customers are getting more interested in the quality and the environmental impact of food. Even when producers provide detailed information on the food supply chain, consumers feel overwhelmed by the amount of information to process. A questionnaire delivered to 1,000+ respondents in Italy revealed that customers look for quick information on their sustainability while grocery shopping. However, 23% of respondents don't have time to read labels. As a result, we propose a platform capable of facilitating customers' choices for high quality food. This includes a decision-making algorithm which takes into consideration all of the information provided by producers, delivering an immediate rating of the food based on its environmental and social impact.
References
Baudry J. et al., (2017, Food Choice Motives When Purchasing in Organic and Conventional Consumer Clusters: Focus on Sustainable Concerns (The NutriNet-Santé Cohort Study). Nutrients.
Carrothers, A. (2020). What Do Sustainability and Nutrition Mean for Consumer Food Values and Behaviors? FoodMinds.
Cohen, N., 2013, The rogue demographer strikes back. Financial Times.
CSQA. (2015). Certificazione Etica del Lavoro Agricolo. https://www.csqa.it/Sostenibilita/News/Certificazione-etica-del-lavoro-agricolo
European Community (EC), 2008, Commission Regulation No 889/2008 laying down detailed rules for the implementation of Council Regulation (EC) No 834/2007 on organic production and labelling of organic products with regard to organic production, labelling and control. Official Journal of the European Union.
European Community (EC), 2007, Council Regulation No 834/2007 on organic production and labelling of organic products and repealing Regulation (EEC) No 2092/91. Official Journal of the European Union
European Commission. (2012). Quality schemes explained.
https://ec.europa.eu/info/food-farming-fisheries/food-safety-and-quality/certification/quality-labels/quality-schemes-explained_en
European Commission. (2016). Sustainable Food. https://ec.europa.eu/environment/archives/eussd/food.htm.
FAO, 2019, The State of Food and Agriculture 2019. Moving forward on food loss and waste reduction.
FoodInsight. (2018). Food & Health Survey. https://foodinsight.org/wp-content/uploads/2018/05/2018-FHS-Report-FINAL.pdf
Gallini, L. (2000), Comportamento chimico e mobilità di alcuni metalli pesanti. http://metallipesanti.altervista.org/Villadossola/Villadossola_Tesi.htm
Gelski, J., 2020, Consumer interest in sustainable food choices spikes. Supermarket Perimeter.
Marks, T., 2015, A new Consumer Reports study reveals how much more you'll pay. Hint: Don't assume that organic is always pricier. Customer Reports.
Perret, M. (2020). Top 10 food trends for 2020. FoodManufacture.
Reisch, L. et al. (2017). Sustainable food consumption: an overview of contemporary issues and policies. Sustainability: Science, Practice and Policy.
Ritchie, H. & Roser, M. (2020). Environmental impacts of food production. Our World in Data.
Westhoek H. et al., 2016, A Report of the Working Group on Food Systems of the International Resource Panel. Food Systems and Natural Resources.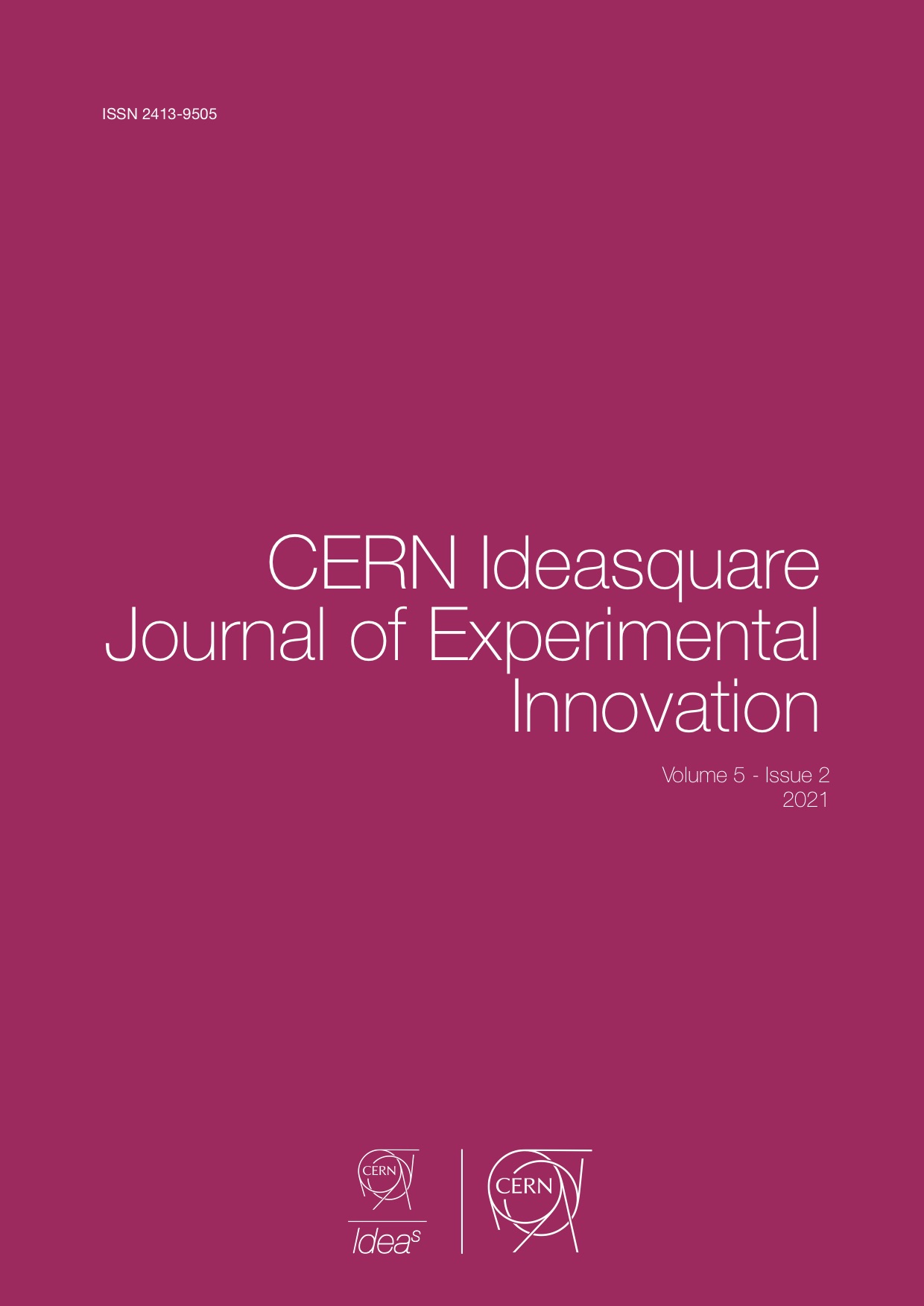 Downloads
How to Cite
Ciampaglia, A., Fontanel, D., Colaianni, G., Dozio, S., Mancinelli, A., Perri, C., & Toscano, A. (2021). Improving food value chain through sustainability scores. CERN IdeaSquare Journal of Experimental Innovation, 5(2), 3–8. https://doi.org/10.23726/cij.2017.1057
Section
Original Articles
License
Copyright (c) 2021 Alberto Ciampaglia, Dario Fontanel, Gianluca Colaianni, Stefano Dozio, Alessandro Mancinelli, Chiara Perri, Alessia Toscano
This work is licensed under a Creative Commons Attribution 4.0 International License.
Authors who publish with this journal agree to the following terms:
Authors retain copyright and grant the journal right of first publication with the work simultaneously licensed under a Creative Commons Attribution License that allows others to share the work with an acknowledgement of the work's authorship and initial publication in this journal.
Authors are able to enter into separate, additional contractual arrangements for the non-exclusive distribution of the journal's published version of the work (e.g., post it to an institutional repository or publish it in a book), with an acknowledgement of its initial publication in this journal.
Authors are permitted and encouraged to post their work online (e.g., in institutional repositories or on their website) prior to and during the submission process, as it can lead to productive exchanges, as well as earlier and greater citation of published work (See The Effect of Open Access).