Brennpunkt Nachhaltigkeit – Beitrag einer digitalen Lernplattform zu transformativem Lernen und Transformation in Richtung Nachhaltiger Entwicklung
Keywords:
Bildung für Nachhaltige Entwicklung (BNE), digitaler Unterricht, Kompetenzmodelle, transformatives Lernen, Ziele für Nachhaltige Entwicklung der Vereinten Nationen (SDGs), Lernplattform
Abstract
Hintergrund: Der Globale Entwicklungsreport der Vereinten Nationen (Global Sustainable Development Report) von 2019 macht deutlich, dass die Umsetzung der Ziele für Nachhaltige Entwicklung (SDGs) alle Weltbürgerinnen und -bürger etwas angeht und hat das Bewusstsein der nötigen Transformation in Richtung von Nachhaltiger Entwicklung verdeutlicht (United Nations, 2019). Zudem macht die Bildungsagenda der UNESCO (Deutsche UNESCO-Kommission, 2017) den Auftrag der Bildung zur Implementierung der SDGs ganz deutlich. Weil die Umsetzung von Bildung für Nachhaltiger Entwicklung in vielen Deutschschweizer Kantonen mangelhaft ist, wird die Dringlichkeit von Lernplattformen wie «Brennpunkt Nachhaltigkeit» deutlich, die transformatives Lernen anstossen können.
Zweck der Forschung: Es wird aufgezeigt, wie bestehende Modelle von Nachhaltiger Entwicklung, sowie Kompetenz- und Lernaufgabenmodelle zu einem Setting vereint werden können um mit Digitalem Lernen einen Beitrag zu Bildung für Nachhaltige Entwicklung leisten.
Methode: Es werden verschiedene Stufenmodelle zur Kompetenzentwicklung sowohl allgemeiner wie auch spezifischer Art in Bezug auf Nachhaltige Entwicklung in Verbindung mit einem erprobten Lehr-Lernmodell gebracht. Dadurch entsteht ein Setting für die Umsetzung von Lerngelegenheiten auf einer digitalen Plattform.
Resultate: Es werden ausgewählte Resultate der Evaluation zweier Lerneinheiten (Lernpfade) der Lernplattform vorgestellt.
Schlussfolgerungen/Umsetzung im Klassenzimmer: Die Schülerinnen und Schüler arbeiten in ihrem eignen Lerntempo auf der Plattform und vertiefen in gewissen Lernschritten die Inhalte nach ihren Interessen. Eine Lernplattform dieser Art macht anregende Online-Inhalte gebündelt zugänglich und bindet diese in sinnvolle Lernaufgaben ein. Es besteht jedoch die Gefahr, dass sich Schülerinnen und Schüler online verlieren. Wichtig ist darum die Funktion der Lehrperson, die sich aktiv als Coach einbringt, denn die Lernplattform ist kein Selbstlern-Tool. Wie weit die Plattform zur Umsetzung der internationalen Zielen für Nachhaltige Entwicklung (SDGs) und somit zu Transformation einer Gesellschaft in Richtung Nachhaltiger Entwicklung beiträgt, hängt stark vom Engagement der Lernenden und dem aktiven Einbringen der Lehrpersonen ab.
Kommentar: Die Lernplattform wird Ende 2020 hier zugänglich sein: www.brennpunkt-nachhaltigkeit.ch.
References
BIFIE (Bundesinstitut für Bildungsforschung, Innovation und Entwicklung) des österreichischen Schulwesens. Kompetenzmodelle und Bildungsstandards. 7 February 2020. https://www.bifie.at/kompetenzmodelle-und-bildungsstandards/
bpb (Bundeszentrale für politische Bildung) (2011). Beutelsbacher Konsens [1976]. 6 March 2020. https://www.bpb.de/die-bpb/51310/beutelsbacher-konsens
Deutsche UNESCO-Kommission (2017). Bildungsagenda 2030 Aktionsrahmen für die Umsetzung von Sustainable Development Goal 4. Inklusive, chancengerechte und hochwertige Bildung sowie lebenslanges Lernen für alle. Kurzfassung der Deutschen UNESCO-Kommission. Bonn: Deutsche UNESCO-Kommission.
Egli, H. R., Hasler, M. & Probst, M.(Eds.) (2019). Geografie. Wissen und verstehen. Ein Handbuch für die Sekundarstufe II. Bern: h.e.p.
Förster, R., Zimmermann, A. B., & Mader, C. (2019). Transformative teaching in Higher Education for Sustainable Development: facing the challenges. GAIA - Ecological Perspectives for Science and Society, 28(3), 324–326. doi:10.14512/gaia.28.3.18
Hasselhorn, M., & Gold, A. (2006). Pädagogische Psychologie: Erfolgreiches Lernen und Lehren. Stuttgart: W. Kohlhammer GmbH.
Hattie John, A. C. (2014). Lernen sichtbar machen. Baltmannsweiler: Schneider.
Herweg, K., Zimmermann, A. B., Lundsgaard Hansen, L., Tribelhorn, T., Hammer, T., Tanner, R. P., Trechsel, L. J. et al., (2017). Integrating sustainable development into higher education–Guidelines with in-depth modules for the university of Bern. Foundations. Bern: University of Bern and Bern Open Publishing (BOP).
Kläy, A., Zimmermann, A. B., & Schneider, F. (2015). Rethinking science for sustainable development: Reflexive interaction for a paradigm transformation. Futures, 65, 72–85. doi:http://dx.doi.org/10.1016/j.futures.2014.10.012
Kuntsman, A., & Rattle, I. (2019). Towards a Paradigmatic Shift in Sustainability Studies: A Systematic Review of Peer Reviewed Literature and Future Agenda Setting to Consider Environmental (Un)sustainability of Digital Communication. Environmental Communication, 13(5), 567–581. doi:10.1080/17524032.2019.1596144
Le Boterf, G. (2000). Construire les compétences individuelles et collectives. Agir et réussiravec compétence. Paris: Eyrolles.
Messerli, P., Kim, E. M., Lutz, W., Moatti, J.-P., Richardson, K., Saidam, M., . . . Furman, E. (2019). Expansion of sustainability science needed for the SDGs. Nature Sustainability, 2(10), 892–894. doi:10.1038/s41893-019-0394-z
Pohl, C., & Hirsch Hadorn, G. (2006). Gestaltungsprinzipien für die transdisziplinäre Forschung. München: oekom.
Probst, M. (2013). Risiken aus Naturgefahren im Alpenraum analysieren. Von Kenntnissen zu Erkenntnissen im Raum. Geographie und Schule. Fachliche Grundlagen. Unterrichtspraxis Sekundarstufe 1 & 2, 204(34. Jahrgang), 17–28.
Probst, M. (2020). Hydrologie anwendungsorientiert vermitteln. Entwicklung, Umsetzung und Evauation eines Unterrichtsmodells zur Förderung der Transferleistung. Geographiedidaktische Forschungen, 71. Münster: Münsterscher Verlag für Wissenschaft.
Rosa, L. (2018). Aufbruch in ein Zeitalter des Lernens. 23 February 2020. https://schulendigital.ch/2018/08/14/aufbruch-in-ein-zeitalter-des-lernens/
Schneider, F., Kläy, A., Zimmermann, A. B., Buser, T., Ingalls, M., & Messerli, P. (2019). How can science support the 2030 Agenda for Sustainable Development? Four tasks to tackle the normative dimension of sustainability. Sustainability Science. doi:10.1007/s11625-019-00675-y
Schubiger, A. (2013). Lehren und Lernen. Bern, Schweiz: hep.
Schweizerischer Bundesrat (2016). Strategie Nachhaltige Entwicklung 2016-2019. Bern.
Seele, P., & Lock, I. (2017). The game-changing potential of digitalization for sustainability: possibilities, perils, and pathways. Sustainability Science, 12(2), 183–185. doi:10.1007/s11625-017-0426-4
Singer-Brodowski, M. (2016). Transformative Bildung durch transformatives Lernen. Zur Notwendigkeit der erziehungswissenschaftlichen Fundierung einer neuen Idee. Zeitschrift für Internationale Bildungsforschung und Entwicklungspädagogik, 39(1), 13–17.
Sterling, S. (2001). Sustainable Education: Re-visioning Learning and Change. Bristol, UK: Green Books for the Schumacher Society.
Tanner, R. P. (2015). Nachhaltigkeit und Kulturlandschaft in Raum und Zeit in der Bildung. In J.-E. Steinkrüger & W. Schenk (Eds.), Zwischen Geschichte und Geographie, zwischen Raum und Zeit (pp. 153–167). Berlin: LIT Verlag.
United Nations (2019). The future is now–Science for achieving sustainable development. Global Sustainable Development Report. New York: United Nations–Department of Economic and Social Affairs.
Wilhelm, S., Förster, R., Nagel, U., Wülser, G., & Zingerli, C. (2015). Zukunft gestalten: Nachhaltigkeitskompetenzen in der Hochschulbildung. GAIA - Ecological Perspectives for Science and Society, 24(1), 70–72. doi:10.14512/gaia.24.1.16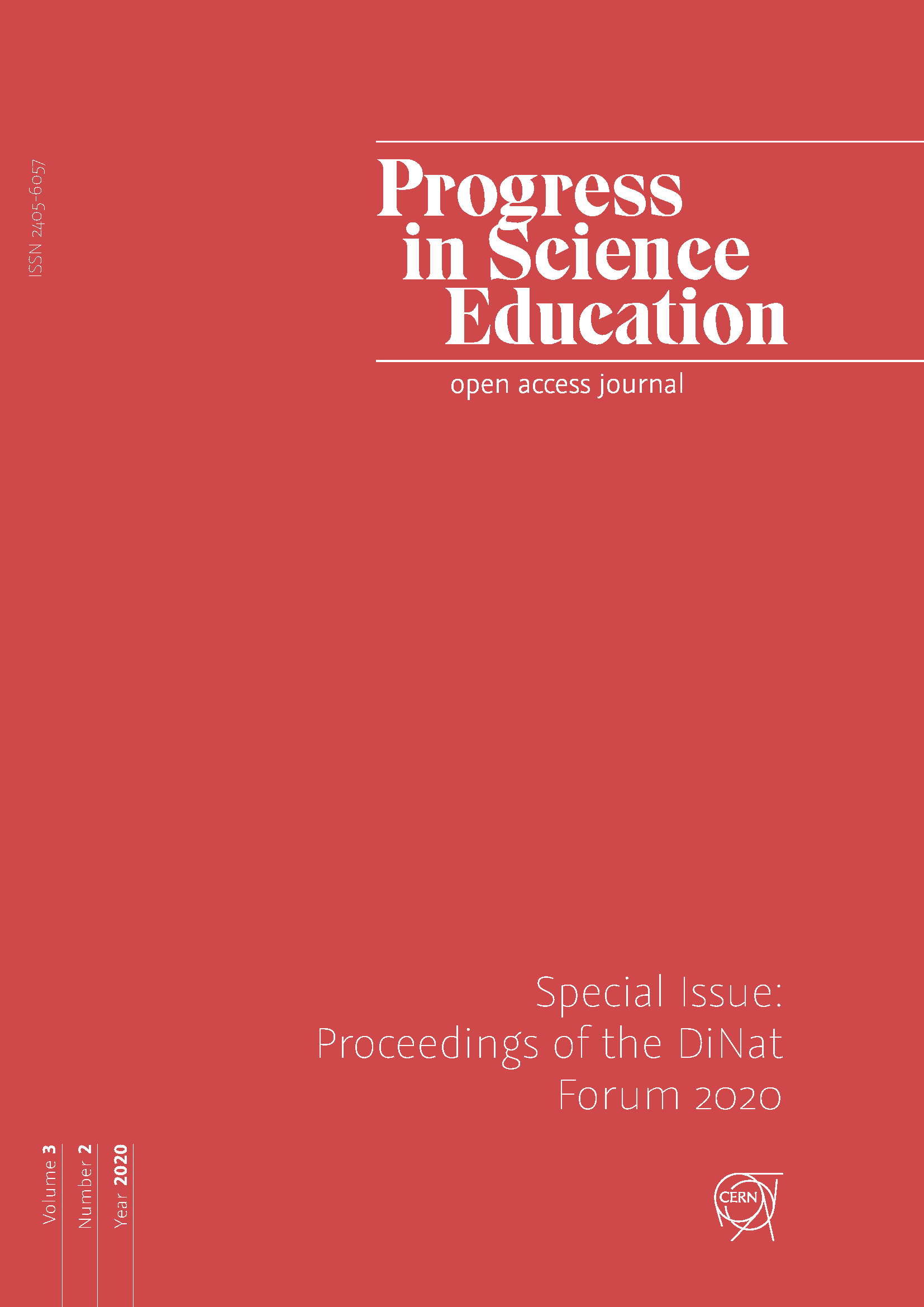 Downloads
Additional Files
Section
Research-Based Report of Practice
License
Copyright (c) 2020 The Author/s
This work is licensed under a Creative Commons Attribution-NonCommercial-ShareAlike 4.0 International License.
Authors who publish with this journal agree to the following terms:
Authors retain copyright and grant the journal right of first publication with the work simultaneously licensed under a Creative Commons Attribution License that allows others to share the work with an acknowledgement of the work's authorship and initial publication in this journal. The applicable licence is https://creativecommons.org/licenses/by-nc-sa/4.0/, which means
You are free to:

Share — copy and redistribute the material in any medium or format

Adapt — remix, transform, and build upon the material under the following terms:

Attribution: You must give appropriate credit, provide a link to the license, and indicate if changes were made. You may do so in any reasonable manner, but not in any way that suggests the licensor endorses you or your use.

NonCommercial: You may not use the material for commercial purposes.

­ShareAlike: If you remix, transform, or build upon the material, you must distribute your contributions under the same license as the original.

Authors are able to enter into separate, additional contractual arrangements for the non-exclusive distribution of the journal's published version of the work (e.g., post it to an institutional repository or publish it in a book), with an acknowledgement of its initial publication in this journal.

Authors are permitted and encouraged to post their work online (e.g., in institutional repositories or on their website) prior to and during the submission process, as it can lead to productive exchanges, as well as earlier and greater citation of published work (see The Effect of Open Access).